Maternity leave is an essential benefit for new parents, providing them with the opportunity to care for and bond with their newborns without worrying about losing their jobs or their income. It is important for employers to understand the requirements and obligations related to maternity leave to provide their employees with the necessary support during this critical time.
As an employer, it's your responsibility to ensure your company is following the maternity leave requirements outlined in the Ontario Employment Standards Act. In this article, we will provide a comprehensive guide to maternity leave in Ontario, including eligibility requirements, duration, benefits, and more.
By understanding these requirements and obligations, you can create a positive work environment, retain valuable employees, and contribute to the well-being of the workforce. Let's dive into the details of maternity leave in Ontario and how you can provide support to their employees during this crucial time.
What is maternity leave in Ontario?
Maternity leave, also called pregnancy leave in Ontario, is unpaid time off work for expecting mothers. All pregnant employees are entitled to up to 17 weeks of unpaid leave. In some circumstances, maternity leave may be extended.
What is parental leave in Ontario?
New parents are also entitled to parental leave, which is unpaid time off work when a baby is born or a child first comes into their care (such as through adoption). As maternity and parental leaves are separate leaves, a birth mother can take both.
When is an employee in Ontario eligible for pregnancy leave?
All pregnant employees are entitled to pregnancy leave, whether they are full-time, part-time, permanent or fixed-term employees, if the Ontario Employment Standards Act applies to their workplace.
To qualify for maternity leave Ontario, an employee must begin employment at least 13 weeks before the baby's expected due date. However, this does not mean they have to be actively working during those 13 weeks. Typically, the earliest maternity leave can start is 17 weeks before the due date. However, if the employee has a live birth earlier than this, she can begin her maternity leave on the date of birth. Employers are not allowed to decide when employees will begin their maternity leave, even if pregnancy limits the type of work they are able to do.
What is the length of maternity leave in Ontario?
Ontario employees can take a maximum of 17 weeks of maternity leave, although they are able to take a shorter leave if they wish or a longer leave if they are still pregnant after taking 17 weeks off.
Employees must take their maternity leave all at once. If they return to work early, even part-time, then under the Ontario Employment Standards Act, they give up their right to the rest of their pregnancy leave.
If a pregnancy, unfortunately, ends in a miscarriage or stillbirth in the 17-week period before the due date, Ontario employees are still eligible to take the rest of their maternity leave.
Is maternity leave in Ontario paid?
Employers are not required to pay wages to an employee who is on maternity or parental leave. However, the employee can apply for and receive maternity and parental leave benefits through the federal Employment Insurance system. While parental benefits can be shared between parents, maternity benefits can't be shared and are only for employees who are pregnant or have recently given birth.
When on maternity and parental leaves, eligible employees can avail of Employment Insurance (EI) that pays 55% of their earnings, up to a maximum of $638 a week.  
When it comes to parental leave, eligible employees have two options. They can either apply for standard parental benefits or extended parental benefits.
Standard parental benefits pay 55% of earnings at a weekly maximum of $638. They can be availed for up to 40 weeks, but one parent can't receive more than 35 weeks of standard benefits.
Extended parental benefits pay 33% of earnings at a weekly maximum of $383. They can be availed for 69 weeks, but one parent cannot receive more than 61 weeks of extended benefit. If sharing, both parents should apply separately but choose the same option (the option can't be altered once you start receiving benefits).
An employee can apply for both maternity and parental benefits at once. Please note that there is a one-week waiting period before an employee starts receiving benefits. Both maternity and parental benefits are taxable.
What is the notice requirement for maternity leave in Ontario?
Employees must give two weeks' written notice before beginning their maternity leave. However, if they do not provide notice, they are still entitled to the leave but must inform the employer as soon as possible. Employers are allowed to request for a certificate from a medical practitioner stating the baby's due date.
Can an employee change the end date of her pregnancy leave?
Yes. An employee can change the date her pregnancy leave was scheduled to end to an earlier date. If she is doing so, she must provide her employer a new written notice at least four weeks before the new joining date.
An employee may also change the date her leave was due to end to a later date. To do so, she is required to give the employer a new written notice at least four weeks before the date the leave was originally scheduled to end. But if the new leave end date results in a longer leave than the employee is entitled to under the ESA, she can't schedule the new date without the employer's consent.
Although the Ontario ESA outlines the legal requirements surrounding maternity and parental leave, it is still recommended that employers create a company maternity leave policy.
Need help writing a maternity leave policy?
Call our experts for free HR advice on implementing a maternity leave policy and ensure you are compliant with the law. Talk to an expert today at  1 (833) 247-3652.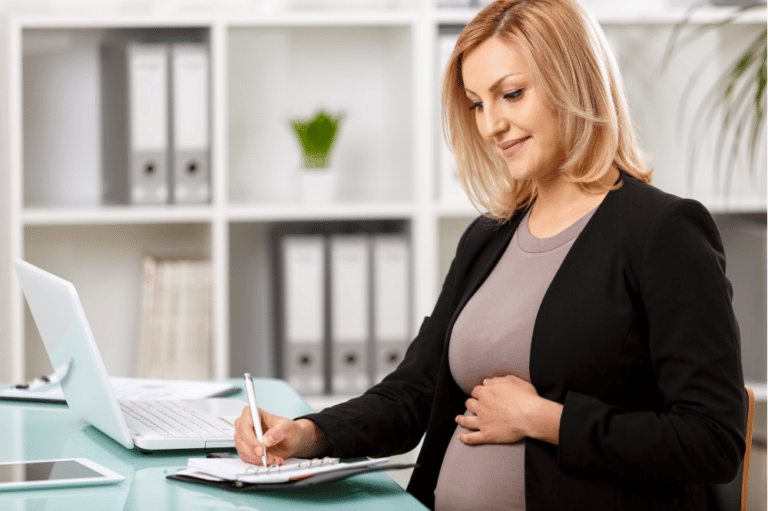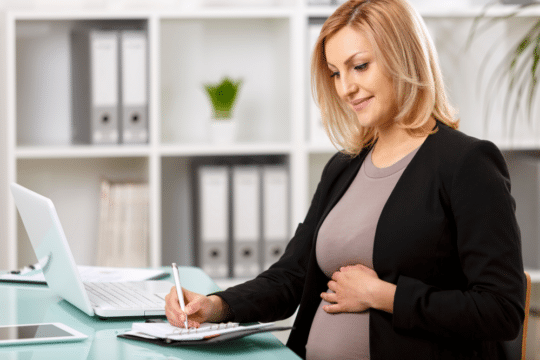 Is maternity leave in Ontario available for self-employed individuals?
Yes. There is a separate EI program that offers six types of special benefits for the self-employed, including maternity and parental benefits. Those who are self-employed are required to register for access to special benefits.
Self-employed individuals can receive financial support of up to 55% of their earnings up to a maximum amount. The time period to receive benefits is 15 weeks for mat leave and 40 or 69 weeks (based on option selected) for parental leave.
To be eligible for the special program for the self-employed, one must meet the eligibility criteria for the benefit one is applying to.
Applicants must also:
Be a Canadian citizen or permanent resident.
Be registered in the self-employed program for at least 12 months.
Have decreased the amount of time spent on business by more than 40% for at least one week due to pregnancy or because they are caring for a newborn or a newly adopted child.
Have earned a minimum amount of self-employed earnings between January 1 and December 31 of the year before they apply for benefits.
Temporary requirement: To qualify for benefits between September 26, 2021, and September 24, 2022, you must have made at least $5,289 in net earnings during the calendar year preceding the year in which your claim for benefits begins.
What are my obligations as an employer when it comes to maternity leave Ontario?
Since maternity and parental benefits are covered by Employment Insurance, employers have no obligations to pay wages to the employee on leave unless they wish to. However, the Ontario Employment Standards Act requires employers to:
Reinstate the employee on return to the same position, or offer an equivalent role.
Factor in the leave period in any calculation of length of the employment and seniority.
Allow the employee to continue participating in benefits such as health benefits, insurance, pension. The employer should not cease making employer-side contributions unless the employee has communicated in writing that they don't want to continue or will stop the employee-side contributions.
What do I need to know regarding pregnancy discrimination in Canada?
In Canada, it is illegal to discriminate against someone because they are pregnant or have a pregnancy-related medical condition and doing so can have serious consequences.
Beyond legal obligations, discrimination against pregnant employees can create a hostile work environment and negatively impact the health and well-being of the employee. Additionally, pregnancy discrimination can result in high turnover rates, as pregnant employees may feel forced to leave their job due to mistreatment, as well as damage to your business' reputation.
It is essential for employers to prevent pregnancy discrimination in the workplace to ensure legal compliance, promote ethical practices, and maintain a positive work environment.
Do you need help creating a maternity leave policy?
Maternity leave is an important benefit for new parents in Ontario and employers have certain obligations to provide this benefit to their employees. You must ensure that you understand the eligibility requirements, duration, benefits, and other obligations related to maternity leave. By providing the necessary support to employees during this time, you can help to create a positive work environment and retain valuable employees.
Our experts can assist you with company policies and with any other human resource management, health & safety, or employment advice you may need. To learn more about how our services can benefit your business, call us today at 1 (833) 247-3652.